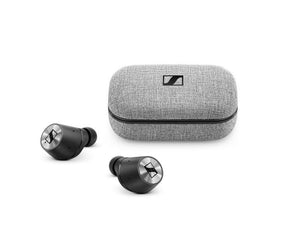 Feel the detail. Hear the difference.
Uncompromised sound performance, state-of-the-art technology and refined design all come together in Sennheiser's True Wireless premium earbuds.
Feel it in the sound.
Every breath, note and beat in studio quality.
Sennheiser's MOMENTUM True Wireless are meticulously crafted with every fine listening detail considered.

From the beautifully designed and perfectly fitting earbuds that bring you closer to the audio you love, to easy access voice assistant and touch operation that work intuitively with you.

And then there's what you hear. Our in-house audio technology combining to create an unmistakable category-leading sound. Welcome to the ultimate wire-free listening experience.